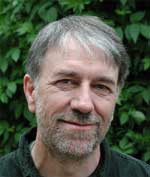 Graham Rice trained at the Royal Botanic Gardens, Kew and is an award-winning writer on plants and gardens. He grew up in a small garden, his own first garden was tiny and he has created gardens in a number of small spaces bringing his wide horticultural experience to bear on their unique problems and opportunities.

Graham writes regularly for The Garden magazine and the Evening Standard, he has written many books and won awards for his writing on both sides of the Atlantic. He is a member of a number of Royal Horticultural Society committees, judges at the Chelsea Flower Show and, with his American wife photographer judywhite, divides his time between Northamptonshire and Pennsylvania.


judywhite is an award-winning garden photographer whose work has appeared in hundreds of magazines and books as well as recently been exhibited at the Smithsonian Institute in Washington, D.C. She is principal photographer for the stockhouse, GardenPhotos.com. An American, she married author Graham Rice after meeting at the 1997 Chelsea Flower Show in London. The couple now divide their time between a lake house in Pennsylvania and a stone cottage in Northamptonshire.